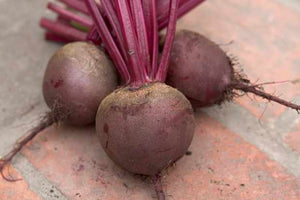 Beetroot Bikores
Regular price
£3.00
£0.00
Unit price
per
Tax included.
Beetroot Bikores, also known as Red Bikores is a globe-shaped Dutch beetroot bred by Bejo-Zaden B.V.
With well-developed tops and smooth-skinned red roots with dark-red flesh, it is a fairly sweet beetroot with a full and rounded flavour and has consistently been one of the highest ranking beetroot in taste tests.
Beetroot Bikores grows quickly, and stores well. It is resistant to bolting and suitable for early sowing under cloches and for maincrop use. Sow early under glass in January to February to crop May onwards. Sow successionally from mid March to July, for harvesting from June to October.
---
Share this Product
---